We have a say in Germany: "Freitag ab 1 macht jeder seins", which basically means on Friday from 1 pm you should shut your laptop, put on your gear, and go for a ride. And that's exactly what I did that one Friday.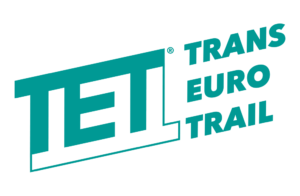 I didn't plan out much. A couple of days before departure I studied the roads on Google Maps and checked the latest Covid-19 warnings. After that, I decided that the best option at this time was to head North-East. The Trans Euro Trail is a community project that offers a 51,000 kilometers long route from the edge of Africa to the Arctic Circle. I've been following this project for quite a while and finally decided to give it a go and ride a part of the route from Poland to the Baltic States.
Starting Point: Nuremberg, Germany.
Destination: Tallinn, Estonia.
Tent, sleeping bag, cooking gear… check. That was the first time I've ever loaded that much stuff on my motorcycle and rode into the unknown. Where will I sleep at night? What should I  expect from the tracks I'll be riding? Am I forgetting anything? The feeling in the back of my head wasn't fear, it was excitement. I'm off to an adventure!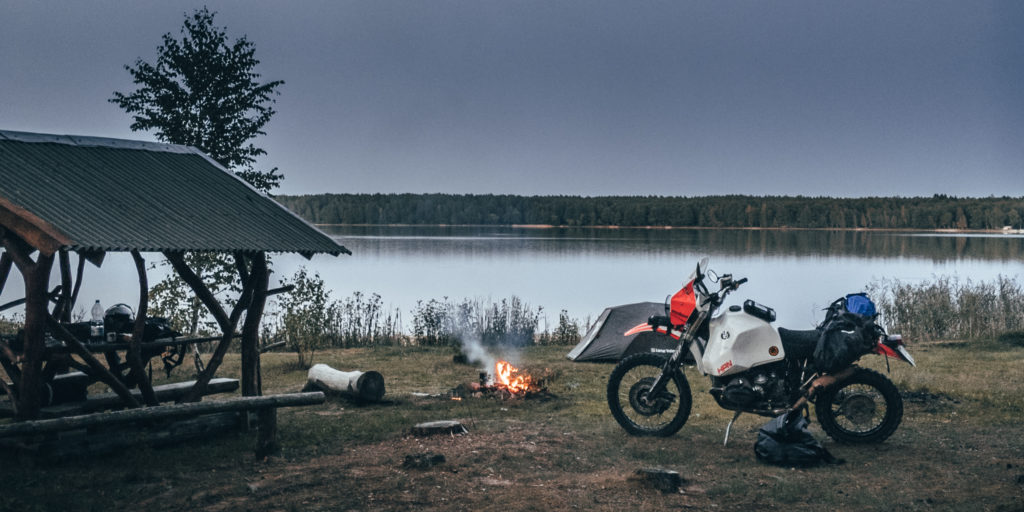 A ride through history.
Even though I didn't plan it like that, this trip was also a ride through history. From Nuremberg, at the Nazi party rally grounds, all the way through Poland, I saw endless military bunkers, which were mostly destroyed in World War II.
Later, the GPX took me East, where I passed through Malbork (Marienburg) and later had the chance to see Wolf's Lair (Wolfsschanze, Hitler's headquarter). Along the way, I rode by countless large graveyards. So much did happen in this area of Europe, seeing it all as you roll by can really give you the chills.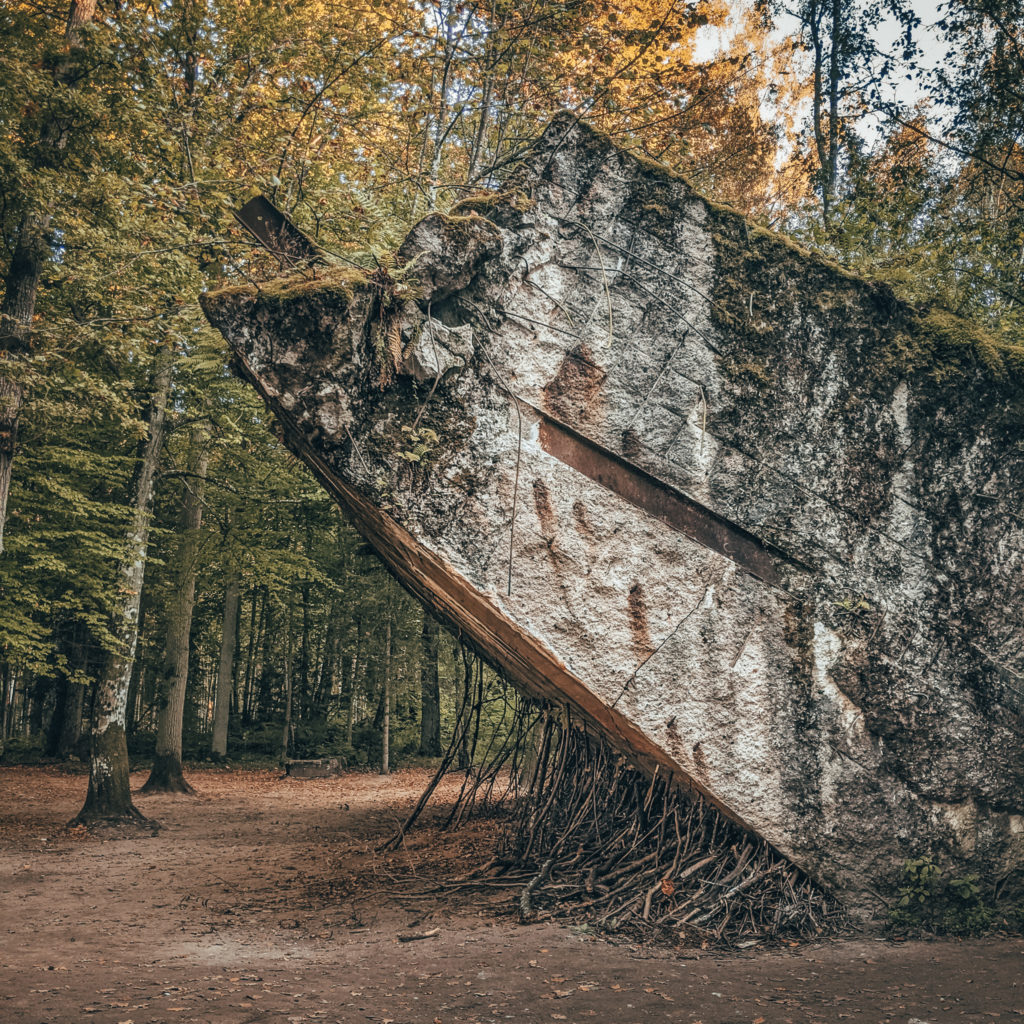 Sand, endless Sand.
I was moving west to east, and as soon as I entered the northern part of the TET (Trans Euro Trail) in Poland, I realized that taking a 200+ kilogram motorcycle loaded with luggage was not a genius idea. I didn't expect that much deep fine sand, it was quite a challenge!
This challenging situation reached its peak in Lithuania, where I tackled a 100 meter long, steep sandy hill, with roughly 10% elevation. I tried to ride through it for an hour, and I have to say, that section of the track, completely defeated me. It made me realize the limits of my skills and drained me to the point where I had to give up.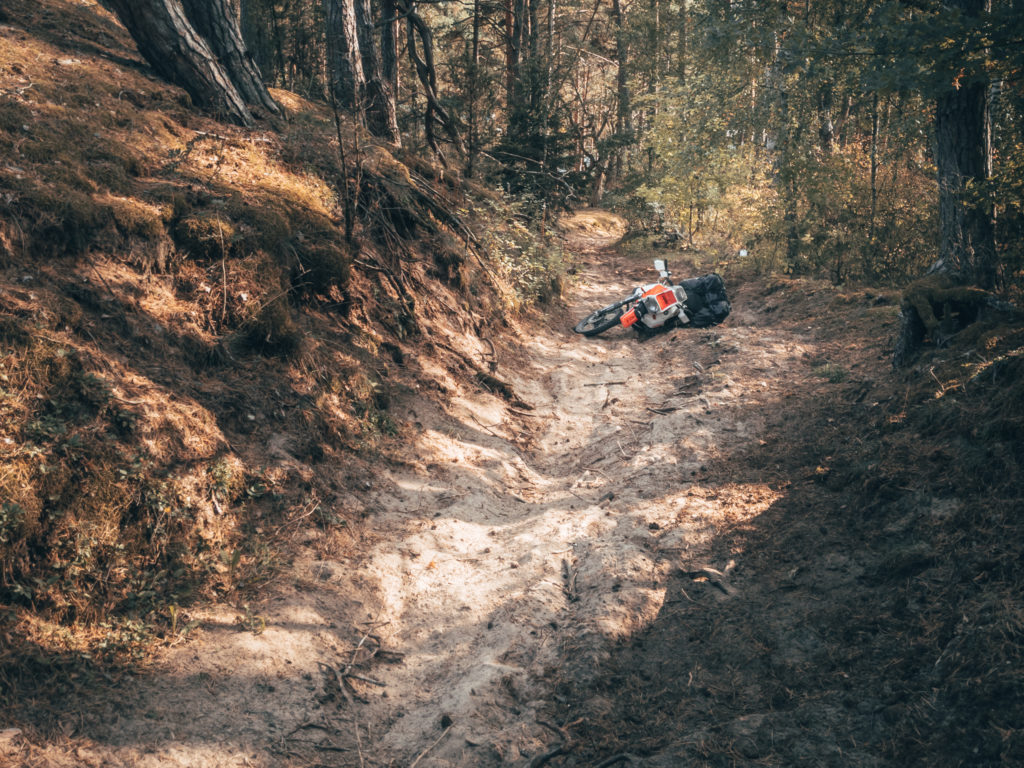 Nevertheless, it was fun and this was not the last sandy section on this trip. In the next couple of days, a lot more opportunities to practice were awaiting me.
Breaking down in the middle of nowhere.
I continued to push on and now I was riding through Latvia. After another long stretch in no man's land, I took a break, I needed to replenish my body and soul so I had some water and snacks. After the pause, I was ready to keep going. I put my helmet back on and pushed the starter switch. The only sounds that came out of the bike was a strange high pitch sound. It sounded like a spinning electric motor. I called my uncle for help and following his advice I tried to push the bike in 2nd gear, to try to turn over the engine, luckily for me, it did! The problem was that I couldn't think about starting my motorcycle in this way, in deep sand, for the next couple of days. My best bet was to ride to a big city and try to find a solution there.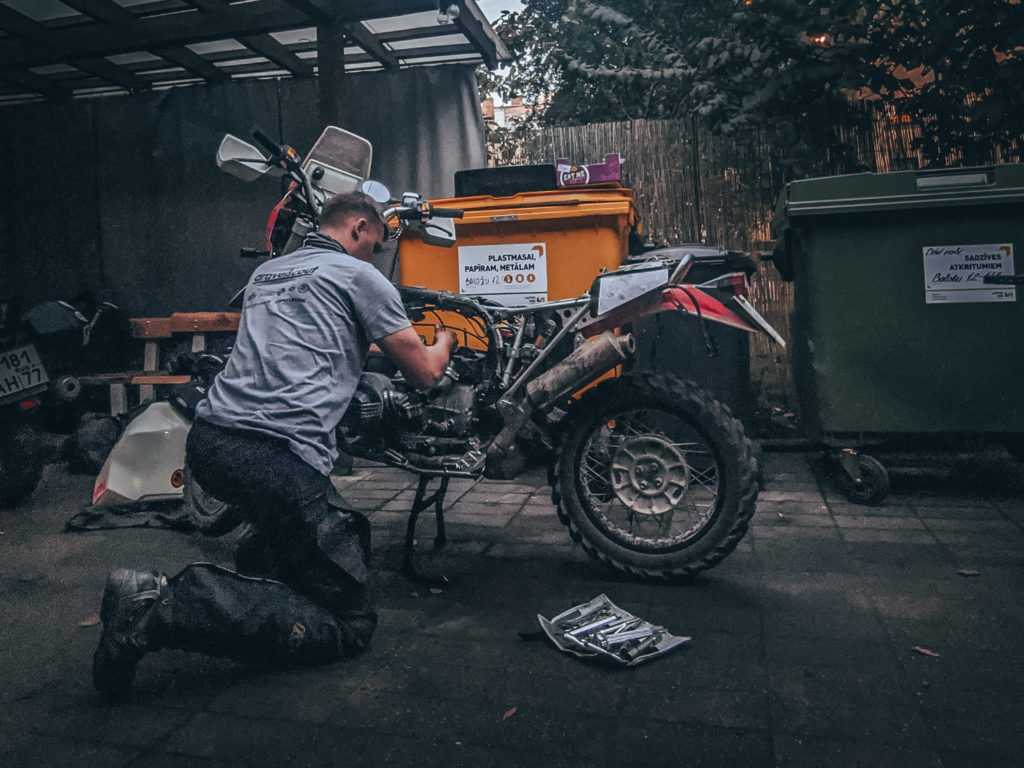 This long day finally ended for me in Riga, at the TET linesmen Martins hotel 'Two Wheel'. I tried to figure out the problem with the starter until it was too dark to work on the bike. As far as I could see, everything was working the way it's supposed to. It seemed like there wasn't enough power to get the flywheel turning and therefore the engine running.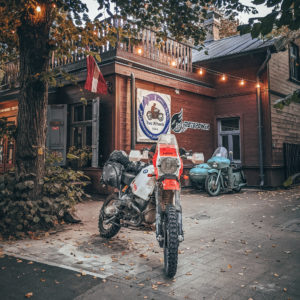 The next morning I found a place that was only 500 meters from the hotel and they specialize in repairing starter motors. How lucky was I? I gave my starter motor to the technician and it only took him three minutes to completely disassemble and troubleshoot the issue. So happens that the teeth inside the gear were completely gone. I really couldn't understand how this was possible.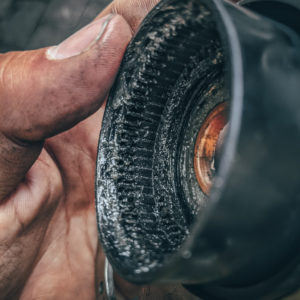 I had bought the new starter 10 days prior (Valeo) and it had only a few days of use. Nevertheless, they had a spare part for me, and 40 Euros later I was back on the road! Thank you Izdarigs in Riga for the quick service. Thanks to you I was able to continue my trip without losing any time, you truly saved me!
5,115 kilometers – 13 days of riding.
Does it rain in the Baltics? You can usually count on it, but not this time. There wasn't even a single drop of rain while I was there, which made most of the tracks with the big bike relatively easy to ride. I still had to cross some mud sections, but I never really struggled to get out of them on my own.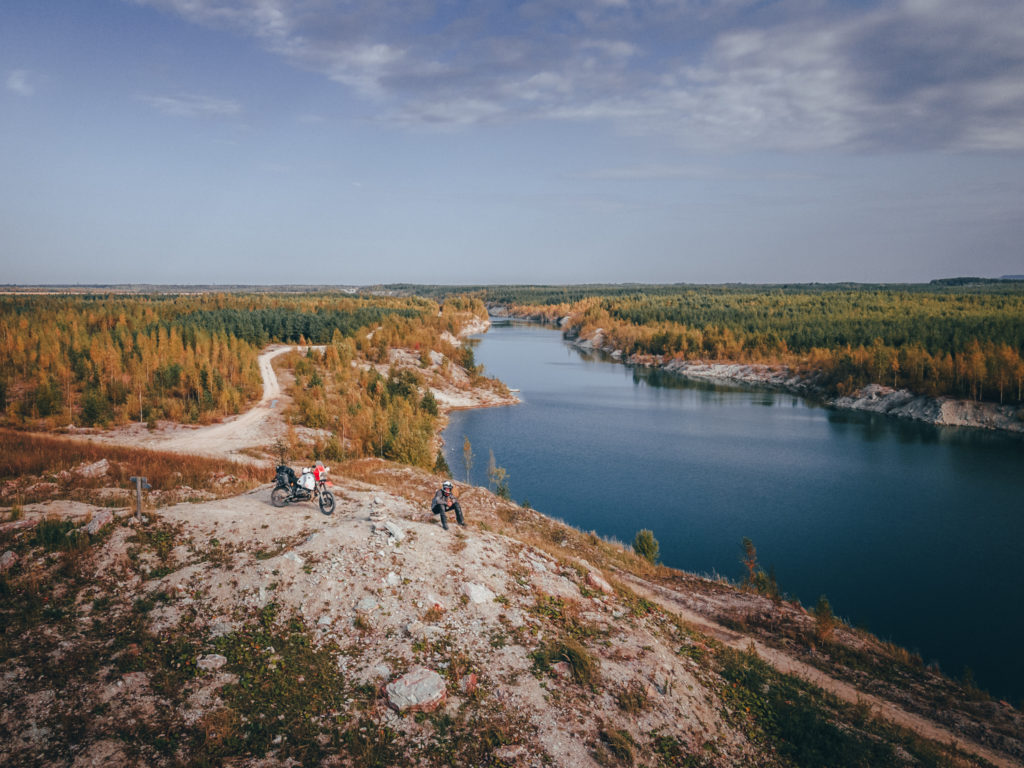 Every morning I got up before sunrise and set the water to boil on the stove I brought with me. As I waited for the water, I grabbed the drone so I could try to capture the magic moment. By  8am latest, I hit the trails and most days I continued to ride until sunset.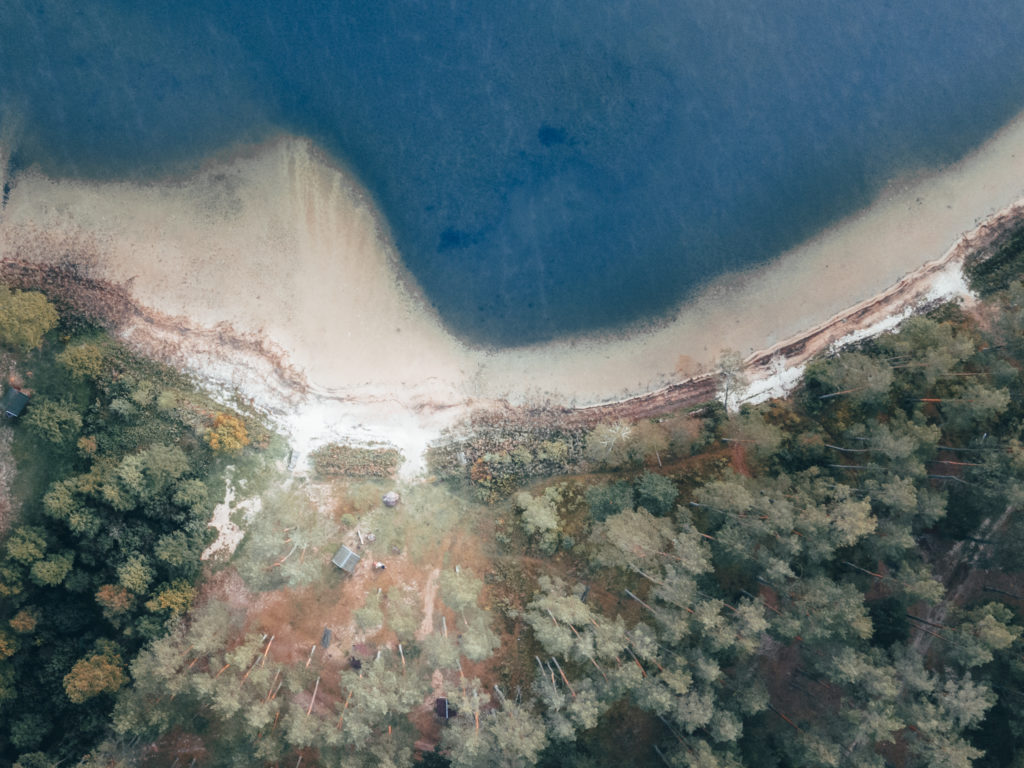 After I reached Estonia I slowed down a bit, there was no need to rush anymore. My ferry was already booked and I still had a few days left until the ferry's departure back in Lithuania. With time on my hands, I decided to take quite a detour.  I used my time to discover as much as possible of Estonia, and I even enjoyed a full recovery day in the capital Tallinn.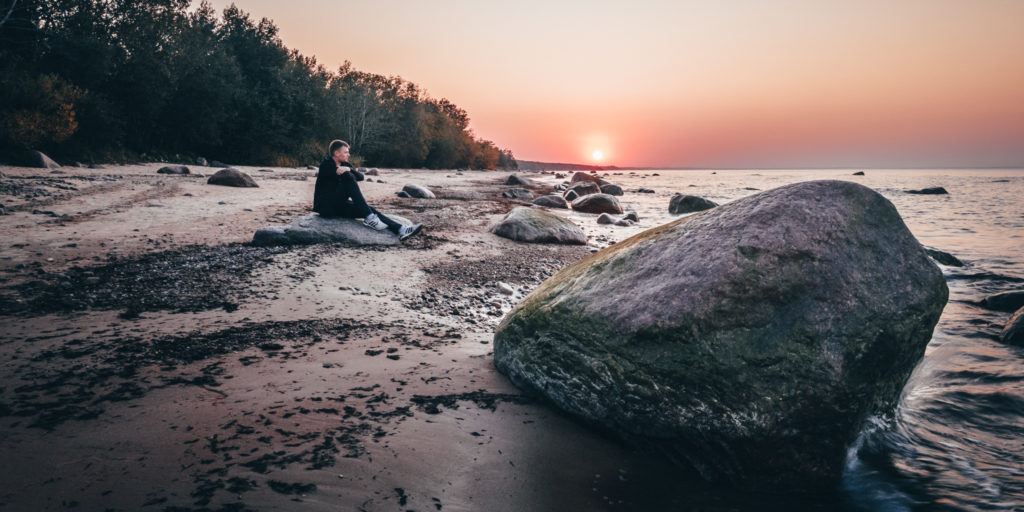 In the end I had ridden a sum of 5,115 kilometers over 13 days and crossed Germany, Lithuania, Latvia and Estonia. This was way more than I originally planned, but that's what happens when you take detours and have a vivid curiosity to discover new places.
I also balanced days on and off the saddle. I took a day in Tallinn, being a tourist and all, one in Riga (repairing the starter motor) and the most boring day of all on the fairy boat shortcutting from Latvia to Germany to get back to the office in time.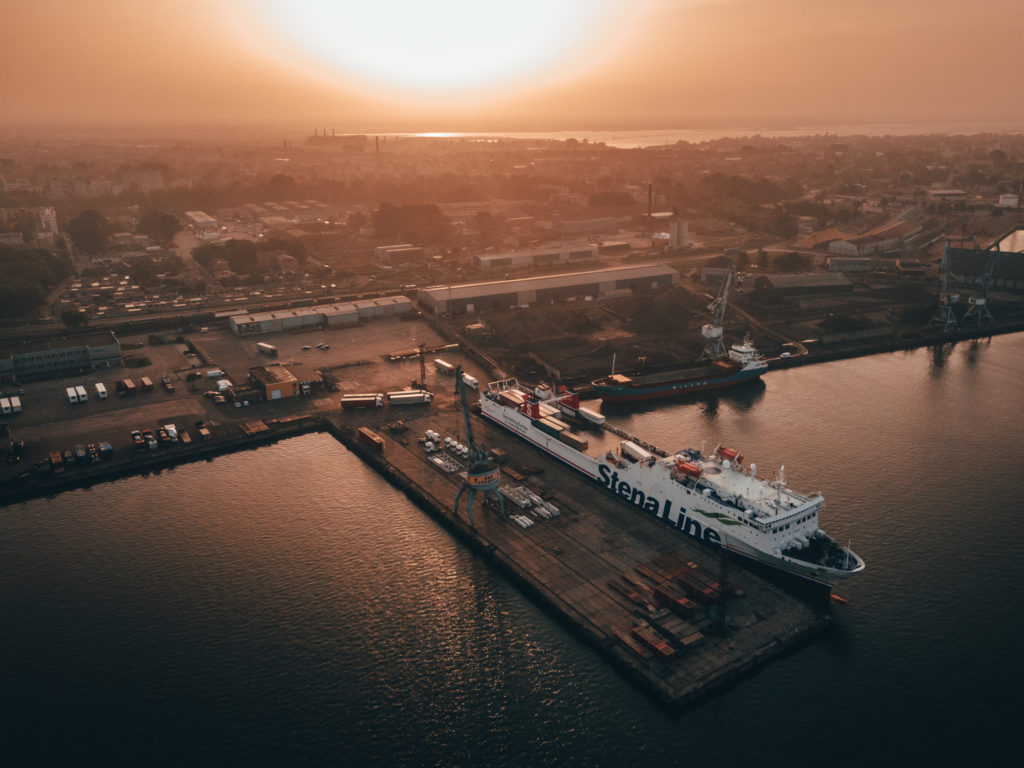 Final last words.
It was exhausting, but totally worth it.
Go, give it a try. You will ride a lot of different terrains, some single trails in the woods, deep mud sections, long deep sand stretches, as well as high speed gravel roads. You will also come across water crossings, and sometimes you'll have to use human-powered ferris and other times, you'll get your feet wet.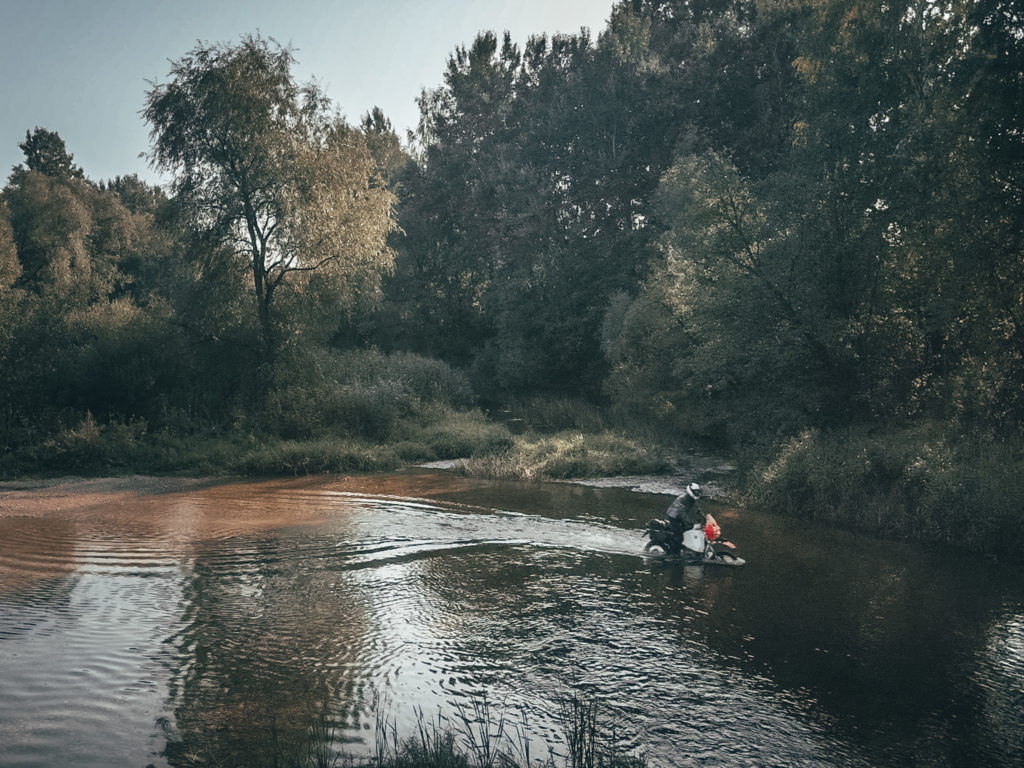 If you're riding a bigger adventure bike, consider doing this trip with a friend, that might come in handy in the more challenging stretches. If you have the chance, also practice with a loaded bike riding in deep sand! 🙂