On this site you can see the developement of my HPN BMW R100GS until present day. I'll update this page on a regular basis of course showing any new modifications.
1990-07-26
Registration as a BMW R100GS
It all started 1990 in the BMW Motorrad factory in Spandau, Berlin, and thats my birth town as well.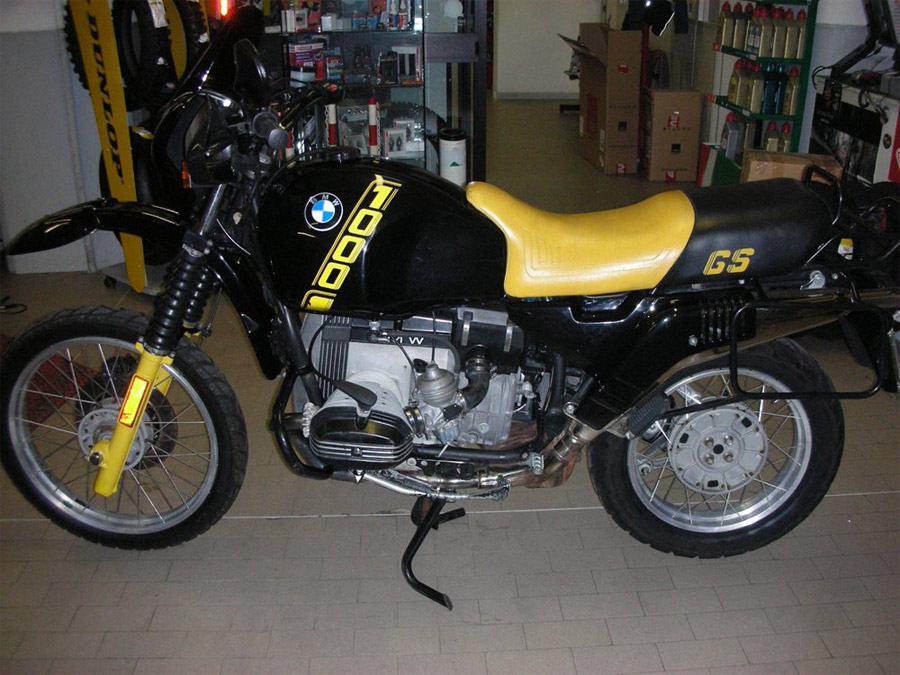 1990-08-09
Service: 975 km (605 mi)
1991-07-29
Service: 4.095 km (2.545 mi)
1992-09-01
Service: 10.236 km (6.360 mi)
Within the first few months the GS was driven on a regular basis and after about two years the first 10.000 km (6.200 miles) were completed. The BMW GS was a big deal that time, so every lucky owner wanted to ride the bike as often as possible and put some milage on it.
1994-09-28
Service: 15.900 km (9.780 mi)
1996-11-19
Service: 16.823 km (10.453 mi)
1999-04-19
Service: 17.289 km (10.743 mi)
2001-05-04
Service: 18.108 km (11.251 mi)
2005-05-06
Service: 18.803 km (11.684 mi)
In the following years the GS stayed in the garage, according to my service invoices the R100GS didn't hit the road much for a while. Good for me and my later on purchase, but it's kind of sad for the BMW not to be ridden in it's younger years.
2008-03-04
Change of ownership: 19.982 km (12.416 mi)
After a long period of time the R100GS switched owners, probably the bike itself was just hoping to be driven more often now, the last few years were kind of meager.
2008-09-21
Change of ownership: 22.042 km (13.696 mi)
But nothing changed, bummer. The new owner didn't fall in love with the bike, so a new change of owners happened.
2008-10-10
First modifications: 22.130 km (13.750 mi)
2009-07-26
Service: 23.429 km (14.558 mi)
2010-04-19
Service: 24.443 km (15.188 mi)
The new and therefore fourth owner started to make first small changes on the bike, Siebenrock tuned it with a SGS exhaust, relocated the oil cooler and they shortened the rear frame a bit.
After these small modifications the owner simply forgot to ride the bike, within a year there was just one or two rides to get the motorcycle service done.
2011-02-17
First visit in Seibersdorf: 25.000km (15.535 mi)
In 2011 he made a decision, the black and yellow BMW should get a special treatment and become something out of the ordinary. Therefore he traveled to Seibersdorf, a small town near to Austria many BMW Dakar fans know and love. This is the home of HPN, the company that built most of the Dakar Bikes for BMW.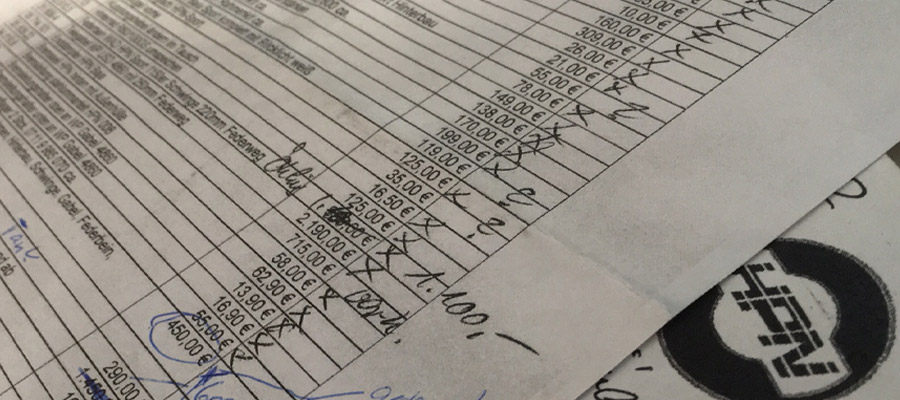 Afer talking about the bike's rebuild with Mr. Pepperl, the "P" of HPN, a HPN Sport was ordered early 2011.
2012-05-08
The HPN is born: 3.700 km (2.300 mi)
The Bike was personally picked up in Seibersdorf. The bike came with a wonderful R100R fuel tank and a seat that really didn't do anything for the looks of the bike.
The new speedo now said 3.700 km (2.300 miles), because the Bike got a new doner heart mit that mileage out of a R100R. In addition to the engine the front double disc brake and speedo were "transplanted" to the HPN. We can keep the 25.000 km (15.500 miles) in mind, that's how old the frame is. Not much more original parts survived the surgery.
2015-04-25
Gletter refines the Bike: 10.094 km (6.270 mi)
In 2015 The R100GS was refined by Gletter:
43 liters fuel tank (by HPN)
Aluminium rear frame by Gletter
Gletter 2 in 1 exhaust
Oil pan distance ring
2 Gletter-style bowden wires for the choke
new one man seat in suede leather
The originally reinforced HPN rear frame was a trade-in to Gletter, I asked for it years later but it was already sold. I like the Gletter rear frame much more, but it would have been nice to have that part anyway, just as a backup.
2016-11-25
Service: 12.400 km (7.705 mi)
2017-06-15
Change of ownership: 12.500 km (7.770 mi)
The owner let himself built another complete bike by Gletter, that was a beautiful master peace, in the meantime it was sold back to Gletter himself. Probably because of now two bikes, there was no time to ride the other bike, so he decided to sell the HPN BMW.
Who became the lucky owner of this beauty? You're right, that was me!
2017-07-01
My first steps: 13.000 km (8.100 mi)
Before the BMW Motorrad Days 2017 in Garmisch-Patenkirchen began I were able to get a set of HPN decals in the same bright red/orange ish color (RAL3026) and some Acerbis Rallye Brush handguards.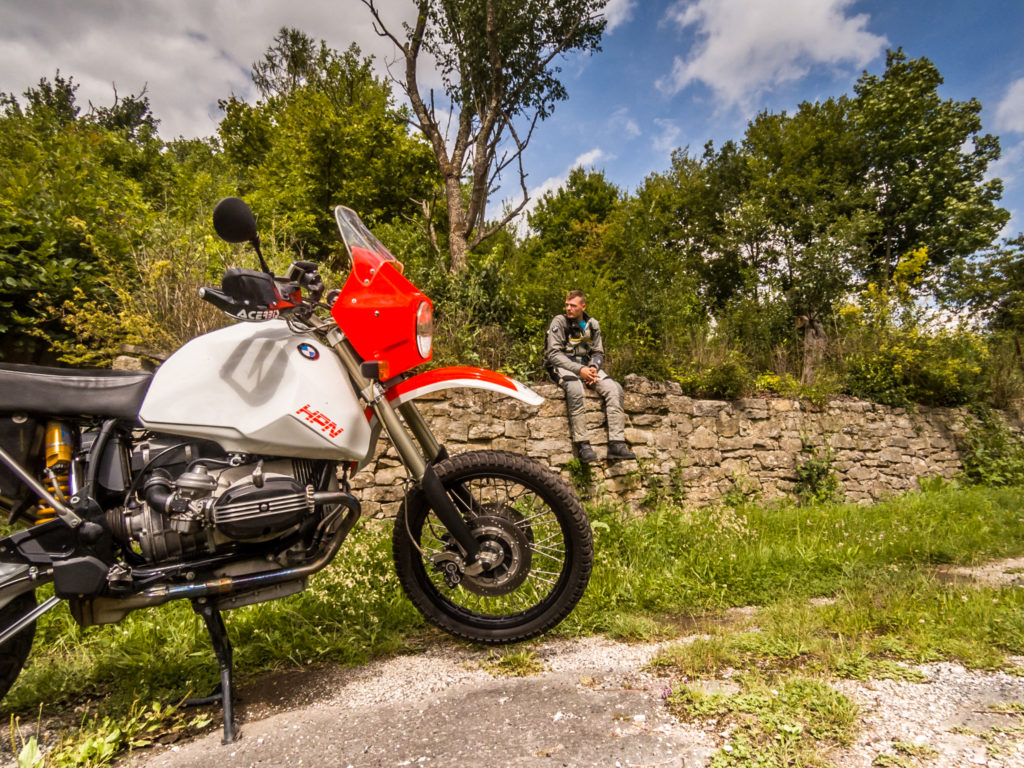 I found some foldable mirrors at FAR for just 25€, they are producing the mirrors for KTM as well, i love them because they almost look like stock, very old school.
2017-08-15
Meeting SWT-Sports: 15.300 km (9.507 mi)
Right before my trip to the Friaul region in Italy I wanted to upgrade the HPN and get her a bit more off-road resistent. After many hours searching the internet, i decided to switch my oilpan with distance ring from one without a bashplate to one with a heavy duty one. SWT-Sports offers a 8mm thick bashplate thats mounted directly on the oilpan distance ring. He is using this thing for competitions and I'm sure, that monster of a plate will outlive me.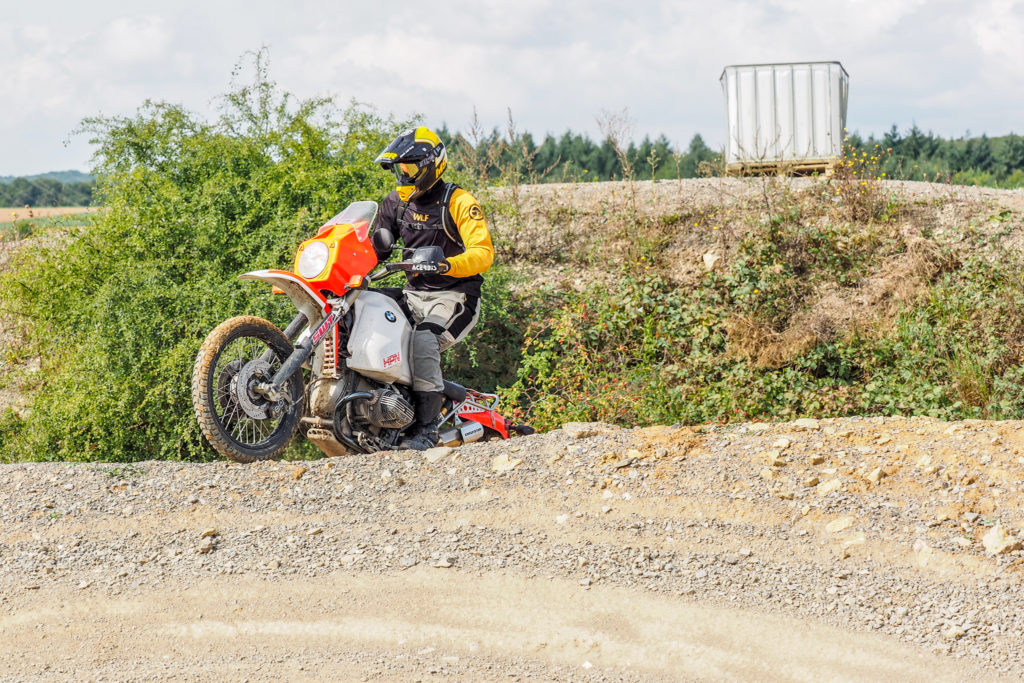 A first and more intense test run I had after my motorcycle trip at the Enduroboxer Meetup, which Manuel of SWT-Sports is hosting annually. My conclusion: Test passed!
2018-12-25
Mileage today: 34.100 km (21.200 mi)
---
All changes until today:
reinforced HPN main frame with modifications to hold a central rear shock
normal 1st, long 5th Gang
R1150GS swingarm mit modified cardan and transmission ration changes
48mm Front suspension WP 4860 with 250mm travel, hold by HPN triple clamp
Rear suspension by Öhlins Federbein with 220mm travel, hydraulic spring preload and adjustable rebound damping
Modifications and reinforcments at the centerstand due to the modified supensions
Aluminium rear frame by Gletter
Gletter slip-on exhaust
Two seats by Gletter (a smaller one for off-road usage and one suede leather one, just because its comfy)
Pan distance ring with a 8mm bashplate by SWT-Sports
43 liters HPN fuel tank (originally produced exclusive by Acerbis Italy)
Both weels are spoked new and centred
Magura Ax2 handlebar (the same one as on the BMW HP2)
Reorganising the cockpit (HPN rallye mask and modifications  on the instrument carrier)